Welcome to Doyen Consulting
Doyen Consulting Inc. provides expert, unbiased roof damage consultation services as well as emergency services. Our representatives assist insurance adjustors with the inspection of roofing components, interior water damage, and storm damage to both residential and commercial structures. We also offer independent inspection services with a detailed report of findings. See all our services »
All too often we observe "sliding shingles" during our inspections of laminate or architectural shingled roofs. Here are some ways to check if the misplaced shingles you've noticed are due to wind or improper installation.

The most common cause for a roof leak is deteriorated plumbing boots, also known as pipe flashers. Plumbing boots flash the exhaust pipes that protrude through the roof.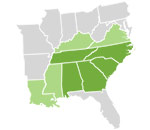 Our regular service area is Georgia, Alabama, Tennessee, North Carolina and South Carolina. Our catastrophe service area also includes Mississippi, Louisiana, Kentucky and Virginia. Doyen staff will travel outside this area in some circumstances. Please call with any requests.